Olive Recipes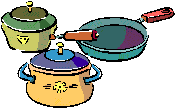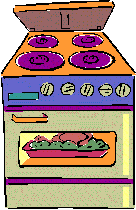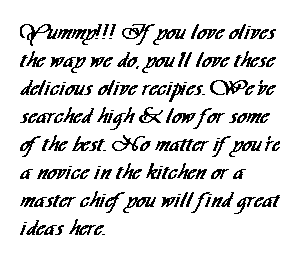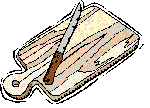 6 slices bacon, crisply fried,
drained and crumbled
1 cup ripe olives, chopped
1/2 cup green onions, chopped
1 1/2 cups sharp Cheddar cheese, shredded
1/2 cup mayonnaise
Sliced French Bread
Mix all ingredients except bread. Toast bread slices on one side and spread olive mixture on untoasted side. Broil until brown. You can also freeze these for later use.

PEPPER CHEESECAKE
16 oz cream cheese, softened
8 oz grated Cheddar
1 pkg. taco seasoning
16 oz sour cream, divided
3 eggs
4 oz can diced green chilies, drained
1/2 cup red bell peppers, diced
1/2 cup salsa
16 oz guacamole or avocado dip
Beat cream cheese, grated Cheddar & taco seasoning until fluffy; stir in 1 cup sour cream. Beat in eggs 1 at a time. Fold in chilies & red bell peppers. Pour into a greased spring form pan & bake in a preheated 350° oven for 40-45 minutes. Cool 10 minutes on a wire rack. Combine remaining sour cream with salsa & spread on top. Bake 5 minutes. Refrigerate overnight.
To serve, remove sides from spring form & spread w/guacamole. Garnish w/fresh tomatoes, olives or cheese. Serve w/tortilla chips. (serves 20-25)

PARTY SHRIMP SPREAD
2 (8 oz.) pkg. softened cream cheese
1 cup cocktail sauce
1 ½ cup cooked baby shrimp
1/3 cup chopped green onions
1/3 cup chopped green pepper
1/3 cup sliced ripe olives
1/3 cup diced fresh tomatoes, drained
1/ 2 cup freshly grated Parmesan cheese
On a pizza pan or large, flat round tray, spread the cream cheese evenly. Spread the cocktail sauce on top. Sprinkle the shrimp, green onions, green pepper, olives and tomatoes onto the cocktail sauce. Distribute the Parmesan cheese evenly over all the other ingredients so it looks like a pizza. Cover and chill until serving time. Serve as a spread with crackers.

Sesame Seed Cheese Spread
3/4 cup sesame seeds
1/2 pound blue cheese
1/2 pound cream cheese
1 cup butter
1 cup chopped pimento-stuffed olives
1 Tbs. chopped chives
1 Tbs. chopped parsley
1/2 tsp garlic salt
3 Tbs. cognac
Roast sesame seeds in shallow pan at 350 degrees about 20 minutes. Watch carefully so they do not burn. Cream Cheeses and butter. Add all ingredients except sesame seeds and blend. Divide cheese mixture and place in six 4 oz crocks. Sprinkle sesame seeds on top. Serve with your favorite crackers.

Dory's Beef Cheese Log
1 (1 (8oz) pkg cream cheese cream cheese
1/4c Parmesan
1T horseradish
1/3c finely chopped green olives
l(21/2oz) jar dried beef-finely snipped
Mix together the first 4 ingredients. Divide into to "logs" and roll in snipped beef. Roll in waxed paper and chill.
Serve with crackers.

Tomato Black Olive Salsa
3 or 4 tomatoes, seeded
1 clove minced garlic
1 finely chopped shallot
1/2 cup pitted and chopped Kalamata olives
zest from lemon. (to taste)
2 tablespoons olive oil
salt and pepper to taste
Chop tomatoes and add minced garlic, shallots, olives, lemon zest, olive oil, and salt and pepper. Mix well and serve at room temperature.
Servings: 4

Marinated Olives, Nuts, and Pimiento
3/4 cup kalamata or other brine-cured black olives
1/2 cup small green olives, such as picholine (available at specialty foods shops)
1/2 cup small pimiento-stuffed olives 1/3 cup 3/4-inch pieces drained bottled pimiento
1/4 cup blanched whole almonds
1/3 cup unskinned hazelnuts, toasted lightly
1/4 cup drained bottled cocktail onions
1/4 cup thinly sliced onion
2 garlic cloves, sliced thin 1/2 lengthwise half of lemon, sliced thin crosswise
1-1/2 teaspoons dried oregano
1/3 cup white-wine vinegar
1-1/4 cups olive oil
In a saucepan of boiling water blanch the kalamata olives and the green olives for 1 minute, drain them, and in a bowl combine them well with the pimiento-stuffed olives, the pimiento, the almonds, the hazelnuts, and the cocktail onions. In a 1-quart jar with a tight-fitting lid pack decoratively the olive mixture, the sliced onion, the garlic, and the lemon and add the oregano, the vinegar, the oil, and pepper to taste. Seal the jar with the lid, shake the mixture, and chill it, shaking it daily, for 3 days. The marinated olive mixture keeps, covered and chilled, for 3 months. Yield: about 3 cups.
Credits From: Best of Gourmet 1990 out of print (Condé Nast Books)

Olive Paste
"This paste is a great way to perk up soups or stews. You can spread it on crackers or French bread, add it to pasta or deviled eggs, or mix it with a vinaigrette to create a unique salad dressing or marinade for steamed vegetables. Its uses are unlimited and it lasts for 6 months in the refrigerator." --Natalie Dupree
1 cup kalamata or mixed green and black olives
1 medium onion, chopped
3 tablespoons capers, rinsed
1 tablespoon chopped fresh oregano or 1-1/2 teaspoons dried
3 tablespoons olive oil
2 tablespoons red wine vinegar
Grated peel (no white attached) of 1 lemon
1/2 teaspoon freshly ground black pepper, or to taste
Place the olives in a colander and rinse very well under cold running water. Remove the pits from the olives and discard. In the bowl of a food processor, combine the pitted olives, onion, capers, oregano, olive oil, vinegar, and lemon peel. Process to a spreading consistency. Season to taste with the pepper and store in a small jar in the refrigerator.
Yield: 1 cup
Credits
Recipe from: Everyday Meals From A Well-Stocked Pantry by Natalie Dupree (Potter)

1/4 pound green olives, pitted
1/4 pound black olives, pitted
5 pickled green peppers, chopped
1/2 cup celery, diced
1/4 cup olive oil
1 sweet onion, thinly sliced
1 Tbs. oregano (optional)
1/4 cup wine vinegar
Salt and pepper to taste
Mix all ingredients well and refrigerate for at least 1 hour before serving to allow flavors to combine. This salad can be used many ways, and one of my favorites is on sandwiches....especially hamburgers or hot dogs cooked on the grill.

Shrimp Curry Salad
2 lb shrimp, cooked, peeled and deveined
1 c mayo
2 tsp curry powder
2 tsp soy sauce
3T minced green onion
1/2 c minced celery.
salt and pepper to taste
Mix the mayo, curry powder, and soy sauce in a bowl and chill. Then combine all ingredients and garnish with cherry tomatoes and whole black olives

CORN RELISH SALAD
Three 16 oz cans shoepeg corn, drained
1 green pepper, chopped
3 bunches green onions, tips & all, chopped
6 oz bottle salad olives with juice
8 oz bottle Italian dressing
Mix & Cover in refrigerator 24 hours.~~

GREEK PASTA SALAD
For the dressing:
1 TBL chopped parsley
1 clove garlic, minced
1 TBL dried oregano
1/2 tsp salt
1/2 tsp pepper
1/4 cup white vinegar
For the salad:
8 oz orzo pasta
1 medium cucumber, chopped
4 oz feta, crumbled
1/2 cup chopped black olives
1/2 cup chopped green olives
2 large tomatoes, chopped
1/4 cup olive oil
Combine the dressing ingredients in a jar with a tight lid, shaking until mixed. Cook the orzo per pkg directions until al dente. Combine the orzo, cucumber, feta, olives, tomatoes & olive oil in a large bowl; mix well. Add the dressing, tossing to coat. Chill, coveref for from 1-24 hours. NOTE: You can add a 2 cups chopped cooked chicken, turkey or shrimp to serves as a main course.~~ (serves 8)

CORN RICE SALAD
1 (16 oz.) can whole corn, drained
2 cups cooked rice
1/ 4 cup chopped sweet red pepper
1/ 4 cup chopped scallions
1/ 4 cup chopped black olives
Cherry tomatoes for garnish
3 Tbs. olive or salad oil
3 Tbs. white wine vinegar
2 Tbs. soy sauce
2 Tbs. chopped fresh parsley
1/ 2 tsp. Dijon mustard
1/ 4 tsp. garlic powder
1 Tbs. Parmesan cheese
In medium bowl, combine corn, rice, pepper, scallions and olives In screw top jar, combine oil, vinegar, soy sauce, parsley, mustard and garlic powder. Shake and pour over corn mixture. Cover and chill several hours or overnight. To serve, stir in halved cherry tomatoes. Top with Parmesan cheese. Note: If using olive oil, let stand at room temperature for 20 minutes before adding tomatoes and cheese.


Baked Pasta with Zucchini and Mozzarella
3/4 pound pasta (fusilli, orecchiette or conchiglie)
5 small zucchini cut into 1/2-inch slices
Salt and pepper
1 (28 ounces) can italian plum tomatoes, drained & chopped
8 black olives, sliced
3 tbsp Parmesan cheese, freshly grated
1 tsp fresh rosemary sprigs
1/2 pound Mozzarella cheese, cut in 1/2-inch cubes
Cook pasta in boiling salted water.
In a large frying pan, heat oil and saute zucchini until lightly browned, about 5 minutes. Season with salt and pepper and transfer to an oiled shallow casserole dish.
Preheat oven to 350 degrees F.
When pasta is almost cooked, drain and add to zucchini. Add tomatoes, olives, Parmesan, rosemary and 1/2 of the mozzarella. Sprinkle with a little more salt and pepper if desired and gently mix together.
Cover with the remaining mozzarella and bake until cheese is melted and the top slightly browned, about 15 minutes.
Yield: 4 to 6 servings
Credits
Recipe from: The New Pasta Cookbook by Joanne Glynn

Lamb and Olive Balls
"These piquant meatballs can be served plain with bulgur wheat or in sandwiches, or in a spicy tomato sauce over pasta." --Maggie Blyth Klein
3 slices bread, country-style white or whole wheat
2 pounds fairly lean ground lamb
1/4 pound feta cheese, crumbled
1 cup kalamata olives, pitted and chopped
1 egg, beaten
1/2 tablespoon cinnamon
1/2 teaspoon hot red pepper flakes
3 cloves garlic, crushed
1 bunch cilantro, chopped
3 tablespoons olive oil
Cut the crusts from the bread; soak the slices in water, wring them out, and crumble them. With your fingers, mix the lamb well with the bread, feta, olives, egg, cinnamon, hot pepper flakes, garlic, and cilantro. Form into 10 large meatballs. In a heavy frying pan, cook the meatballs in the olive oil until crisp and brown on one side; then turn and brown the balls on all sides, no more than 10 minutes, over a fairly high heat. The meat should be rare.
Yield: 10 meatballs
Credits
From: The Feast of the Olive by Maggie Blyth Klein

Catfish with Tomato Green Olive Sauce
1-1/2 lbs. catfish fillets
1-1/4 cups seasoned bread crumbs
1/4 cup unsalted butter

4 cloves garlic, minced

1-1/2 cups recipe-ready crushed tomatoes

1/4 lb. green olives, drained and chopped

Season catfish with salt and pepper to taste. Dredge in bread crumbs. Melt half the butter in a heavy nonstick skillet over medium heat. Add catfish and half the garlic. Cook 3-4 minutes per side or until fish is opaque throughout. Transfer catfish to a platter and keep warm. Discard butter from skillet and wipe clean with a paper towel. Melt remaining butter in same skillet over medium heat. Sauté remaining garlic 1 minute. Stir in tomatoes and olives. Simmer 5-7 minutes until slightly thickened. Pour tomato and olive sauce over fish and serve.

Color burst Olive Pizza Slices
1 lb. loaves Italian bread, cut lengthwise
1/3 cup creamy Italian dressing
1 cup green, red or yellow bell pepper, chopped
1/4 cup scallions, sliced
1/4 cup pitted ripe olives, sliced
3/4 cup shredded mozzarella cheese
Preheat oven to 400°F. Bake bread on baking sheet 5 minutes, or until lightly toasted. Spread dressing on bread. Top with remaining ingredients. Bake 10 minutes more or until cheese is melted. Cut each bread half into slices. VARIATION: In step 3, cut each bread half into 12 slices. Makes 1-1/4 lbs. appetizers.

This recipe serves 4 people. Because this recipe is for a particular size pan, it adjusts the number of servings only in multiples of 4.

LINGUINI WITH TOMATOES, FETA & OLIVES
12 oz linguini
Salt to taste
2 TBL extra-virgin olive oil
3 cloves garlic, minced
6-8 plum tomatoes, peeled, seeded & chopped
1 TBL chopped fresh oregano or 1 tsp dried
12 large kalamata olives, cut into quarters
6 oz feta, crumbled
Juice of 1/2 lemon
Pepper to taste
Cook the linguini in boiling salted water in a saucepan per pkg directions; drain. Cover to keep warm. Heat the olive oil in a skillet until hot. Add the garlic. Sauté for 20 seconds; reduce the heat. Stir in the tomatoes & oregano. Simmer 6-8 minutes, stirring frequently. Add the hot pasta, tossing to coat. Add the olives, feta, lemon juice, salt & pepper, tossing to mix. Serve immediately.~~

Feta Cheese Turkey Burgers
1 pound ground turkey
1 cup crumbled feta cheese
1/2 cup kalamata olives, pitted and sliced
2 teaspoons dried oregano
ground black pepper to taste
Directions
1. Preheat the grill for medium high heat.
2. In a large bowl, combine turkey, feta cheese, olives, oregano, and pepper. Mix together, and form into patties.
3. Lightly oil the grate. Place patties on the grill. Cook for 10 to 12 minutes, turning halfway through.
Serves 4.

Alaskan King Salmon with Red Pepper Pesto and Basil Butter
8 - 7oz salmon filets
Red pepper pesto:
2 large red peppers
1/4 c kalamata olives
1 T chopped fresh garlic
1 c parmesan cheese, grated
1/2 c olive oil
Roast the peppers and remove the charred skin and seeds. Place peppers, olives garlic and cheese into food processor and pulse until coarsely chopped. Add olive oil and blend for 3 seconds.
Basil Butter Sauce:
1/2 c white wine
1 oz lemon juice
1 shallot, chopped
1 T rice wine vinegar
2 T fresh basil, chopped
1 c sweet butter
Combine wine, lemon juice, shallots and vinegar in a medium saucepan over high heat. Reduce by one half. Add basil and reduce to about 1/4 cup. Slowly whisk in butter until fully incorporated. Slice a pocket in each salmon filet horizontally through the center but do not cut all the way through. Put pesto in piping bag and pipe evenly into pockets..Place salmon on greased sheet pan and bake at 400 degrees for 8-10 minutes or until just cooked through. Spoon 2 T butter sauce into center of each serving plate. Top each with a salmon filet. If you wish put a dollop of butter sauce on top of the salmon. Serve immediately.

CAPONATA
1/ 2 cup olive oil
3 cups diced eggplant
(3/ 8" cubes), about 1 medium
1 1/ 2 cup coarsely chopped onions
1 cup celery in 1/ 4 " slices
2 cups chopped fresh tomatoes
3 Tbs. minced garlic
2 Tbs. tomato paste
1/ 4 cup red wine vinegar
12 small stuffed green olives,
sliced into thirds
12 black olives, pitted and sliced into thirds
1/ 4 cup small capers, drained
3 Tbs. sugar
1/ 4 - 1/ 2 tsp. crushed red pepper flakes
1/ 2 cup lightly packed minced parsley
1/ 2 tsp. salt
1/ 2 tsp. pepper
In a large skillet, heat the oil. Add the eggplant and sauté several minutes until partially soft. Add the onions, celery, Tomatoes and garlic and cook for about 10 minutes, stirring occasionally. Remove from heat, add the remaining ingredients, and toss lightly. Chill until ready to serve. Serve chilled or at room temperature. Notes: Chopped anchovies can also be added. Diced zucchini can be substituted for half of the eggplant. Diced yellow peppers make a colorful addition.

MEXICAN LASAGNA
2 lbs lean ground pork or beef
16 oz can refried beans
2 tsp dried oregano
1 tsp cumin
1 tsp garlic powder
8 oz pkg. lasagna noodles, uncooked
2 1/2 cups salsa
2 1/2 cups water
16 oz container sour cream
2 cups shredded Monterey Jack
1/2 cup chopped green onions
2.2 oz can sliced black olives
Mix uncooked meat, beans & seasonings. Line bottom of 9x13x2" pan with uncooked lasagna noodles, spread 1/2 of meat mixture over noodles, make another layer of noodles & spread remaining meat mixture; if you have noodles left over, layer them on top.
Mix salsa & water; pour over casserole & cover tightly. Bake in a preheated 350° oven for 1 1/2 hours. Cover with sour cream & shredded cheese. Top with green onions & olives. Bake 5 more minutes to melt cheese.~~
(serves 12-14)

Enchiladas
1 pound ground beef
1 onion -- chopped
8 ounces Monterey jack cheese -- shredded
8 ounces Cheddar cheese -- shredded
2 1/2 cups enchilada sauce
1 small can sliced black olives
8 flour tortilla
Brown ground beef and onion - drain. In a large bowl, combine meat/onion mixture, cheeses (reserve some for topping) and sliced olives - mix well. In the bottom of a 9x13 pan, spread a thin layer of sauce. Divide meat mixture between 8 tortillas and roll them up (may need to soften tortillas in the microwave first). Place in a single layer in pan, then pour remaining sauce over the top. Sprinkle reserved cheese over top. Bake uncovered at 350F for 30 minutes. Serve with sour cream and guacamole.

CHICKEN IN HONEYED TOMATOES
6 boneless, skinless chicken breasts
Salt and pepper to taste
3 Tbsp. olive oil
1 small onion, chopped
1 clove garlic, minced
1 can diced tomatoes
1/ 2 cup dry white wine
6 Tbsp. honey
1/ 2 tsp. dried tarragon leaves
1/ 2 tsp. dried thyme leaves
3/ 4 cup pitted black olives, halved
1 Tbsp. chopped parsley
Sprinkle chicken breasts with salt and pepper. Heat oil in large skillet. Cook chicken about 8 minutes per side. Remove and keep warm. In same skillet, cook onion and garlic until soft. Stir in tomatoes, wine, honey, thyme and tarragon. Simmer, uncovered, until thickened. Return chicken to sauce. Add olives. Cover and cook another 5 minutes. Sprinkle with parsley.

CHICKEN CHILI WITH WHITE BEANS
1 lb dried Great Northern white beans
5 1/4 cups chicken broth
1 large white onion, chopped
2 garlic cloves, minced
1 TBL dried oregano
1 TBL ground cumin
1/2 tsp ground cloves
1 tsp salt
1 TBL white pepper
4 cups chopped cooked chicken breasts
7 oz can chopped green chilies
1 TBL minced jalapeno peppers, optional
1 3/4 cups chicken broth
8 flour tortillas
Garnish:
shredded Monterey Jack
sour cream
sliced black olives
chopped avocado
chunky salsa
Sort the beans & soak in water in covered large bowl for 8 hours; drain. Combine with 5 1/4 cups broth, onion, garlic, oregano, cumin, cloves, salt & white pepper in a large saucepan. Simmer, covered for 5 hours or until the beans are tender, stirring occasionally.
Add the chicken, green chilies, jalapeno peppers (if using) & 1 3/4 cups chicken broth. Simmer, covered for 1 hour. Ladle into bowls lined with the tortillas. Serve with garnishes.~~
(serves 8)

Tortilla Pinwheels
1 pkg. Ranch salad dressing mix, dry
8 oz. pkg. of cream cheese
1 cup sour cream
1 small can sliced black olives, drain, pat dry
with paper towel
1 small jar pimientos, drained
1 small can chopped green chilies, drained
optional- 1 cup grated Cheddar cheese
12 flour tortillas
Mix dry dressing mix through the cheddar cheese, if using. Spread on room temperature tortillas. Roll up each and wrap each in plastic wrap. Chill several hours. Slice into bite-sized pieces when read to serve.
notes: you can substitute Good Seasons Italian Dressing Mix for the Ranch mix if desired; you can also substitute finely chopped red bell pepper for the pimiento if desired.
Betcha can't eat just one!

If you have an olive recipe you'd like to share please e-mail us and
let us know
or visit our message board and exchange ideas! We may use your ideas on our web page so that it can be shared and delighted by all.

This site is sponsored by BeadCreation Handcrafted Jewelry