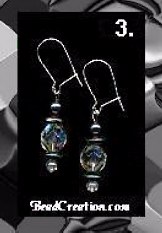 Sophisticated
Soft iridescent colored glass meets hard grey/silver glass to create this clean look.
$6.50
#0124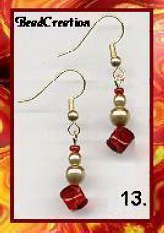 Red and Gold Cubed Earrings
Charming little glass gold pearls with red cubes that finish the pair off.
$5.00
#0115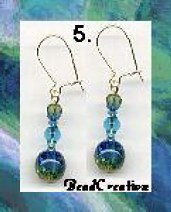 Ocean in a Bottle
Beautiful Crackle glass blue/green earrings. Shape resembles a genie bottle with gorgeous teal blue center
$4.75
#0130
Temporarily
Sold Out
#00142
Pink Crackle Glass Clip Earrings
Sweet soft pink crackle glass beads are truly Beautiful! (The glass has a cracked pattern though out the inside of the bead, creating many light reflecting surfaces.) This pair has gold accents on gold earring clip.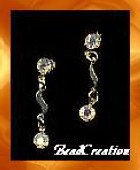 $6.00
Rhinestone Dangler Post Earrings
Rhinestone post earrings with dangling shiny rhinestones at the end of gold swirl. Subtle yet shiny enough to grab your attention.
#00146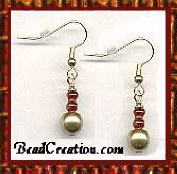 $3.25
Golden Glow Earrings
Gold glass pearls with red beads glazed in gold. Very cute.
Temporarily
Sold Out
#00145